St Lawrence Church & Wymington Chapel
St Lawrence Church
We have very close links with St Lawrence Church and Wymington Chapel. The church clergy and members of the chapel come into school every month to lead our Family Praise Collective Worship.
We have Harvest, Christmas, Easter and Summer end of term services at St Lawrence Church.
The church building in which we worship was built by John Curteys around 1377AD in the Decorated style, and so presents an unusually unified late medieval structure. It retains many features of historical and artistic importance. There are wall paintings of the fourteenth and fifteenth centuries, including a Doom over the chancel arch.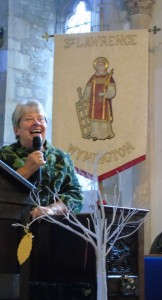 John Curteys' canopied altar tomb lies between the chancel and south chapel. Protected by the chancel carpet, are brasses of national importance showing Sir Thomas Brounflet, cup-bearer to Richard III, in the armour of the period ; and his wife.
A brass of the former rector, John Stokys, is in the Lady Chapel. The beautiful nave pews date back to the fifteenth century and these medieval pews have 17th century "draw out" seats.
The spire is about 25m high, with a bell tower containing 5 bells.
Above the porch is a Priest's room accessible from an inside staircase.
Wymington Chapel
Wymington Chapel was built in 1870 and a School Hall was added in 1930. In 2006 the members embarked on a renewal of their premises, which are now available not only to the local congregation but to the wider community.
The congregation which meets at the Chapel belongs to the Wesleyan Reform Union, a small denomination which traces its origins to the Methodist movement in Britain. For more information about this please visit: http://www.thewru.com